General information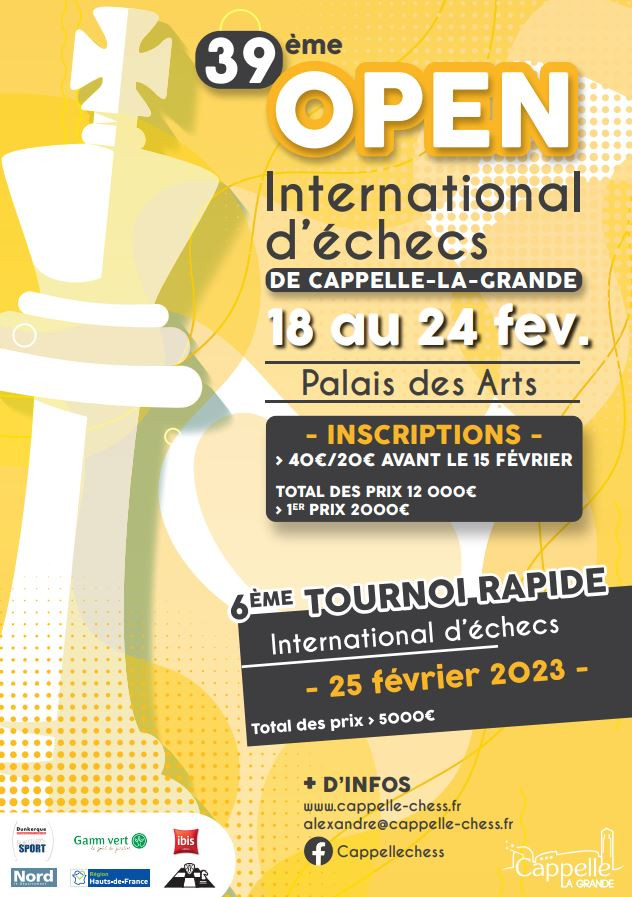 ---
39th International Open tournament
from Saturday February 18th to Friday February 24th, 2023
Rated by French Chess Federation and International Chess Federation (Standard March 2023).
Time control : 1h30 + 30sec/move for the first 40 moves, then 30min + 30sec/move to end the game.
Number of rounds : 9 rounds.
Total prizes : € 12,000 including € 2,000 to the winner.
Registration fees: € 40 / € 20
Register : contact us (name and FIDE ID)
---

5rd International Rapid
Rated by French Chess Federation and International Chess Federation (Rapid March 2023).
Time control : 12min + 3sec/move
Number of rounds : 9 rounds.
Total prizes : € 5,000 including € 1,000 to the winner.
Registration fees: € 20 / € 10
---
Schedule
Saturday, February 18th, 2023
Opening ceremony : 15:30
Round 1 : 16:00
Sunday, February 19th, 2023
Round 2 : 14:00
Monday, February 20th, 2023
Round 3 : 9:00
Round 4 : 16:00
Tuesday, February 21th, 2023
Round 5 : 14:00
Wednesday, February 22th, 2023
Round 6 : 9:00
Round 7 : 16:00
Thursday, February 23th, 2023
Round 8 : 14:00
Friday, February 24th, 2023
Round 9 : 10:00
Closing ceremony : 17:00
Saturday, February, 25th, 2023
Rapid tournament
---
Registration
To be in round 1 pairings, you shall have validated your registration before Saturday February 12th at 12:00. To do this, you shall complete the registration form and pay the fee corresponding to your participation. Several solutions are available to you, and we obviously encourage you to do register and pay in advance.
Registration form:
Means of payment :
Make a payment by bank transfer, specify your full name.
IBAN : contact us.
Unexpected ?
Obviously, something unexpected can always happen. Don't worry, if you notify your absence before Friday, February 27th, you'll not be paired and we will refund your registration. Otherwise, no registration can be refunded for a player who appears in the pairings.
---
Playing hall
Palais des Arts et des Loisirs, Place Bernard Gouvart, 59180 Cappelle la Grande
Free car park in front and on the side of the building (around 200 places, including 4 disabled parking slots).
Disabled people are welcome. There are accesses to playing hall and toilets since January 2020.